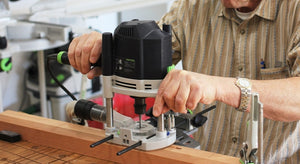 Router One - October 26-27, 2021
Regular price $350.00 Sale
Class details
Location: Asheville, North Carolina Training Facility
Dates: Tuesday, October 26, 2021 - Wednesday, October 27, 2021
Class Time: 8:00 a.m. - 5:00 p.m.
Maximum Class Size: 6
Cost: $350.00
About this class
Router One is a brand new end-user training class, based partially upon the former  "Festool Advance Router" curriculum, which is no longer offered.
In this two-day hands-on workshop we will cover the full Festool router lineup, including the MFK 700, OF 1010, OF 1400, OF 2200, CMS router table, as well as the MFT/3 and FS Guide rails, with regards to how they integrate with Festool Routers.
Router One was designed for woodworkers of all levels, even if they've never touched a router before.
Topics
Topics covered in Router One are tailored to each class, but typically include: Fundamental router safety and operation, applicable to any Router;  Integration of Festool Routers with FS guide Rails;  Festool  cross platform system integration;  Perimeter and field shaping with profiling bits; Mortising with routers; CMS set up, and joinery applications, and More!
Participants will leave with an improved understanding of safe, efficient ,routing techniques as they apply to new construction; remodeling, cabinet work, and furniture construction. Real-world, application-based exercises will enhance the participant's understanding of how to efficiently employ the Festool Router System in the shop and on the jobsite.
Safety glasses and earplugs will be required during all tool use. In addition, participants will be asked to sign a standard liability waiver at the outset of class. If this presents a problem, please let us know beforehand, since this will impact our ability to allow you to work with the tools.
Prior to registering for class, please review the information provided to us by GDP Academy below. If you agree, we look forward to hosting you. 
"2021  IMPORTANT INFO REGARDING GROUP CLASSES AT GPD  2021
The past year has been unprecedented, and posed quite a challenge to learn about Covid 19 and how to stay safe in a Covid 19 World, while trying to simultaneously conduct operations here at GPD.  Today, we all know a lot more about the disease and how to stay safe, and at GPD we've had ZERO confirmed cases of Covid 19, so we're doing something right.  As it turns out,  we've actually  been doing most things right since day 1!
Here's a few examples of things that have always been going on here:
Cleanliness - If you've been to our shop before, you've probably remarked how clean it is here - Yep, we run a clean shop, and our staff starts each day with cleaning activities before doing any "work".
Capacity - The CDC has been recommending that businesses operate at 20% of their maximum capacity.  At GPD, even at a maximum class capacity, our classes are less than half of the CDC's recommendation - So we're operating at less than 10% of our shop's capacity.
Breathing:  Woodworking can be dusty, and the mask thing is nothing new to woodworkers
We have had to modify a couple things here, in order to comply with health recommendations, and those changes vary from class to class, due to the specific nature of the class - Here's a few changes:
Transportation - Today, we can't jamb 7 folks into a minivan and stay in compliance, so we're unable to provide shuttle service to/from hotels currently.   Our shop is 10 minutes from Asheville, and real easy to get to - And we have plenty of parking.
Dining: Since we're all unable to jump into the shop mini van to go out for lunch or dinner, we've had to curb that.  However we still provide lunches, and if you've been here before you know we eat good!
Interactions with GPD Team Members: Before, you could tour the shop and get up close and personal with any of our team members to learn more about the work they're doing.  Today you can do the same, we just ask that you keep a bit more space in between
While we don't know what the future will bring, we're moving forward with the knowledge and the "normal" that exists today, and we suspect you're doing the same.   If you're excited to learn, and you're comfortable with the current environment, as well as the ways that GPD is operating in it, we encourage you to sign up and attend as many classes as you care to participate in!   And if you're not comfortable in the above setting, we totally respect that, and we will be here when you are ready!"